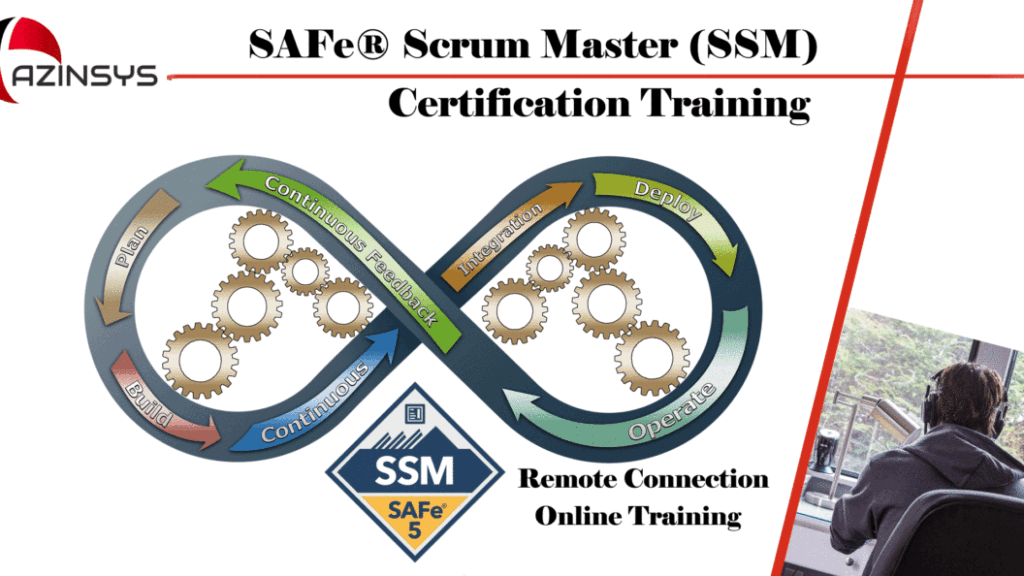 SAFe Scrum Master
SAFe 5 Scrum Master(SSM) is a certification course that introduces individuals to the Scaled Agile Framework enterprise and helps to plan and execute the program increment. The SAFe Scrum Master certification helps the professionals connect and coordinate with the large-scale Agile project team and carry out a smooth and effortless Agile transformation.
About this event
Are you curious about how to coach Agile teams to deliver maximum business value at scale? The SAFe® Scrum Master course covers the tactical skills to be an effective Scrum Master in a SAFe organization. And gives you the guidance and tools you need to work effectively in remote environments with distributed teams.
If you want to become a certified scrum master with the skills to help leading companies succeed with Agile and scrum, the SAFe Scrum Master course is for you. Learn how scrum masters empower and lead Agile teams. Understand how to facilitate Agile events like iteration planning, standups, and retrospectives. And discover how to help teams plan and complete their work. You'll also learn the principles of servant leadership, so you can help develop high-performing, engaged, continuously improving teams in your own organization.
Who Will Benefit?
Intended for people new to the role of the Scrum Master, or people wanting to better understand the role and how it fits in a SAFe enterprise, attendees typically include:
New or existing Scrum Masters
Team Leads
Release Train Engineers
Project Managers
Learning Objectives
To perform the role of a SAFe® Scrum Master, attendees should be able to:
Describe Scrum in a SAFe enterprise
Facilitate Scrum events
Facilitate effective Iteration execution
Support effective Program Increment execution
Support relentless improvement
Coach Agile teams for maximum business results
Support DevOps implementation
Topics Covered
Introducing Scrum in SAFe
Characterizing the role of the Scrum Master
Experiencing Program Increment planning
Facilitating Iteration execution
Finishing the Program Increment
Coaching the Agile team
Prerequisites
All are welcome to attend the course, regardless of experience. However, the following prerequisites are highly recommended for those who intend to take the SAFe® Scrum Master (SSM) certification exam:
Familiarity with Agile concepts and principles
Awareness of Scrum, Kanban, and Extreme Programming (XP)Working knowledge of software and hardware development processes
SAFe Certification
Attending this course prepares you to take the SAFe 5.0 Scrum Master exam in order to receive the SAFe 5.0 Scrum Master (SSM) certification.
EXAM DETAILS
Name – SAFe® 5 Scrum Master
Format – Multiple choice; Multiple select
Delivery – Web-based (single-browser), closed book, no outside assistance, timed
Access – Candidates can access the exam within the SAFe Community Platform upon completion of the SAFe® Scrum Master course
Exam duration – Once the exam begins, candidates have 90 minutes (1.5 hours) to complete the exam
Number of questions – 45
Passing score –SSM 5 = 34 out of 45 (73%)
What You Get
Class registration includes:
Course Material and Workbook
Preparation and eligibility to take the SAFe® 5 Scrum Master (SSM) exam
One-year membership to the SAFe Community Platform
Certification of completion
Attendees must attend both days of the course in order to qualify for the exam.
Professional Development Units (PDUs) and Scrum Education Units (SEUs)
Attendees may be eligible to apply for 15 PDUs toward their continuing education requirements with the Project Management Institute (PMI) for PMP, PgMP, and PMI-ACP certifications.
Attendees may be eligible to apply for SEUs under category C, toward earning or renewing their CSP through Scrum Alliance.
Annual Renewal
Certifications expire one year from the date of certification is earned. Renewal fee: $115/year
Cancellation Policy
Refunds are available up to 7 days before the course starts. No refunds after this date